2019
It's been a very hot summer and the studio heats up so I began the ceramic year with some  pie birds as I can make them in a cool environment. Here are the Secret Seven Singers.
The birds are functional pie birds and are named after their characters: Jack Colin, Peter, Barbara, Pam, Janet, George,
2018
I had fun with colour pigments. One blue pigment was brought to me from Venice. The plates using this pigment are in the foreground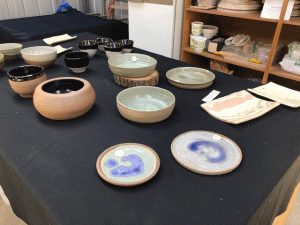 And a Barber's Quartet of pie birds. Here they are still in the kiln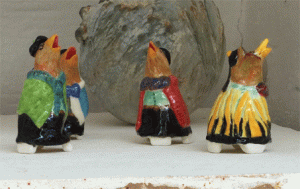 Miss Juilliard's Booktown Choir of pie birds
Each bird is individually hand sculptured, paint and named. The individual names of Miss Juilliard's Booktown Choir commemorate some of the women who, over the years, have taken on leadership roles in Booktown Festival. There are 20 birds in this choir.
A few of the birds are available from Red Door Gallery on Fraser; 31 Fraser St, Clunes, 3370. Ph 0408034017,  rdgonfraser@gmail.com
January I spent a couple of restful days in the revamped studio re-learning how to make a bowl and getting the feel of the new shelves which are deep and expansive. On one shelf I can store a dozen wet bowls still on their wheel bats.
2017
A big surprise for me this year was opening the kiln to this extraordinary glaze.
I had made this misshapen open bowl, forcing the eye to look deep into the pot. I wanted to try for an exciting inner glaze. On a base of our rich black tenmoku I dribbled ash and copper red glazes. Then I put it on the top and hottest shelf of the kiln and crossed my fingers. These kinds of experiments can go either way. I was lucky this time. The fire of the kiln was caught in the glaze.
St Martha in the Meadows 
 During the last few months of 2017 I made another choir of birds. Over the two choirs I must have made around 40 of these little pie birds.  I think as my writing gets harder my ceramics becomes more frivolous. The second choir is Saint Martha in the Meadows (Not to be confused with St Martin-in-the-Fields)
Each bird takes quite awhile to make and paint. Sometimes they go through the kiln a few times as I adjust and add. I find them happy objects, singing with all of their being, and full of laughter.
The Midnight Choir 
The pie birds – small hollow clay ornaments that can sit in a pie as a vent, (or sit on your kitchen window sill as a moment of laughter), came out of left field. I've had a terrific time making and painting them, learning a host of new skills along the way.
The bird in The Midnight Choir have personality and names. They have all been hand sculptured using paper clay and hand painted using  ceramics colours which are food safe. Each bird is a one-off.
Contralto section of choir:
Yasmin; Lucy; Sibyl; Suzy; Alice; Lois and Dulcie.
I have been further exploring artists books using paper clay. I find it interesting that I make small objects which require a lot of minute work. This is in complete contrast to my function ware which tends to be large and quick and fluid.
Loose Leaf Folder[/caption]
I particularly like Loose Leaf Folder. Seven ceramic gum leaves are casually mounted in a box especially made by Lowa Paszko. I like the work's simplicity.
2016
Using paper clay I made an artists book Leaflet. I was playing with the pun of a leaf of a book and the various saying around leaf, such as 'turning over a new leaf'. The work is predominantly white with the slightest touch of colour on the leaf imprint. It's a small work, about the size of a mobile phone. I displayed it in a box especially made for me by Lowa Paszko.
Leaflet
Leaflet, "Turn over a new leaf"
With June I also made lots of function ware and our sale in December showed how much work we'd done throughout the year. The sale was held in June's studio. Please don't ask to buy anything as it's all sold.
2016 Ceramic Sale
2015 -16
I made jugs because a friend wanted one and teapots (the technically hardest shape) because I was feeling adventurous, and for the rest, I enjoyed working with Ironstone clay.
Ironstone pot
Some pots from 2015
2014
August
A set of bowls for Catherine. Ironstone clay and our iron based glaze – "Night" which is rich and velvet-like. The combination of clay and glaze is pleasing.
 May
These two pots were my ideas for plates and dishes. I took them inside to my kitchen to live with me and so that the kitchen, the pots and I could have a conversation and get to know each other. Mad, I know, but there you are. I have decided on the left hand pot. Its quiet and gentle and matches my current mood more than the dramatic one on the right. The difference is the clay. The dark clay is Ironstone, the lighter one is Flash. Both are stoneware. The glaze is one June and I developed a few years ago, a very beautiful celadon glaze. We'd left it alone for awhile mainly because it is not an easy glaze to work with- it fires in a very short temperature range so it can easily disappoint and run or be under-fired. One firing June put it on a pot in the top shelf of the kiln and the result was stunning. Since then we have reserved the top shelf for this glaze. I know I could adapt the glaze for any shelf, but it wouldn't be the same rich creamy blue, and I quite like knowing that it is rare and hard to come by.
For those interested the blue comes from the smallest amount of red iron- now that's alchemy.
 Feb
With a revamped kitchen I intend to work on domestic tableware for the first half of the year.
I plan to make a series of plates and bowls in stoneware exploring the grey-white Flash clay and the browns of Ironstone clay.
2013
I made a series of simple cookware bowls. I used an earthenware base and mixed other clays with it to increase the potential for thermal shock and hence making them oven-proof.
I decorated them using iron based slips. The paint brush and I are not friends so this was quite a challenge.
One of these bowls was awarded First prize in its section and an "Outstanding Exhibit in the whole Craft section at the Clunes Annual Show – I was enormously chuffed to be a hero in my own puddle!
Gallery
Click on image to see full pot.
Pots using coils of  local ochres and different clays.
Tableware with iron glaze decoration. Here I have combined glazes.
Plates and deep bowls using inserts of layered clay and ochre
Using Shino-type glaze on tableware
Cookware – Chicken cooker and Tagine burner.
A celadon glaze June and I developed. We only use this on small pots.