The Clunes Pottery
Established 2008
June Johnstone and Tess Brady
The Pottery embraces the goldfield's landscape and uses local ochres and materials. Each piece is individually handcrafted.
Most of our work is functional ware for either the table or the oven. We are also exploring sculptural forms. We mix clays, sometimes using local ochres, and  also make the glazes from raw materials,  often using ash from our fireplaces. We use a variety of making techniques which incorporate hand building and wheel formation. Each piece is unique.
We use nontoxic materials and our pots are food-safe.
Once a year we hold an open studio and sale. The next sale will be on Saturday 7 December, 2019. Contact us at clunes.pottery@gmail.com or Tess at tess@tessbrady.com.au for further information. We are also on instagram clunes.pottery
Examples of our work can be found throughout the year at Red Door Gallery on Fraser St, Clunes who represent us.
We are often asked if we run classes, sadly we do not.
We do make small commissions.
Studio News
2019
We begin the year with a small commission of plates for Quigley and Clarke Clunes restaurant and cafe.
June is dreaming up tall hand-made forms and Tess is learning to draw flying women.
 2018
Ten years! Our annual sale…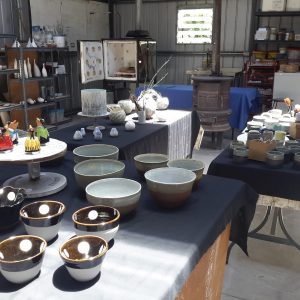 Jan-Feb. We have begun the year making ceramic buttons for our quilting friends.
2017
We planned a radical reshuffle of the studio space.  I think we've made the space work better for us now. New shelving has significantly increased our storage.
Fragile and Frivolous (2017)
We had a very successful exhibition with the artist Elizabeth Paszko, 30 Sept – 15 Oct 2017. June began making her egg-shell fragile pots and I began making the pie birds.
The Warehouse, Fraser St, Clunes.
Fragile and Frivolous
2015
To commemorate the 100th anniversary of ANZAC (24 April 2015) we made a series of red ceramic poppies for the RSL. There were 42 poppies, one for each name on the Clunes cenotaph.
The poppies are hand formed and hand painted.
2014
Our studio was written up in the June RACV magazine, 2014. You can read the article here
In 2014 we were commissioned by the local bistro, Lucky Strike, to make 30 mulled wine cups and two jugs.