---
---
70 +
In 2019 I wrote a short piece on ageing. I wrote the first draft on a day-time train to Adelaide. I sat for most of the trip in the club car watching the landscape. It was spring and I was surprised by the amount of water, even in the normally arid and dry boarder regions.
The piece is being adapted for a short film, 70+ which was released in April 2020.
---
---
---
---
New Work
I am working on the story of my tree change retirement in Clunes and how, with the community, we turned the village's fortunes around and became Australia's first Booktown.
---
---
Radio Drama
In these works I was interested in exploring the subtlety of the human voice. Sound effects, as they were traditionally thought of (FX) were of no interest to me and I did not write them in my scripts. Instead I was interested in how the juxtapositions of sounds could create a narrative. An example of this is the opening sequence of Anthony, a Play for Three Women. I juxtaposed the sounds of an ambulance and a seagull, letting them morph into each other. The play was produced by Andrew McLennan in the ABC studios in Sydney. The sound technician brought from the sound library the sounds of a seagull and an ambulance and when we played the two sounds side-by-side they clashed horribly. My producer looked at me amazed at how I could get it so wrong and I couldn't understand it either because they had harmonised. After a little discussion it came out that I had written the play in England when I was studying at Exeter University. The technician sighed... and then he placed the sound of an English seagull, in-the-air, with an English ambulance and everything worked perfectly.
It taught me to be more specific in my sound instructions!
I was also keenly interested in the ambience of a room and the proximity, or not, of a microphone. I like to juxtapose the breathy inner thoughts or intimate voice with the distant register of a formal or cold conversation. Likewise, I explored the coldness of a deserted room as opposed to one filled with love and warmth and humanity.
Thematically, I was interested in dignity and the need for this little discussed attribute in human interaction.
The bulk of these plays were written while I was a member of the South Australian Workshop, a sculptural collective in Adelaide set up by Bert Flugelman. I saw myself working in 3-D sound and felt comfortable sharing the studio space. My desk was upstairs in the clean space. I was enormously lucky to have the innovative producer Andrew McLennan interested in my work. For a short time we were in Adelaide at the same time. It was a fascinating time, the Experimental Art Foundation was elbowing its way into the contemporary Australian art scene, the Women's Art Movement was breaking the boundaries and conceptual art was challenging everything. McLennan played me tapes of works I would not have otherwise been able to hear and introduced me to international cutting edge spoken word pieces and to the science and recording of sound.
McLennan was an exceptional producer who went on to run the innovative Listening Room on ABC radio.
The plays
• Anthony, a Play for Three Women ABC 1982, 1983 ABC Studios, Sydney. Production: Andrew McLennan; Sound Recordist: Neal Smith; Actors: Lady One - Robyn Nevin; Lady Two - Judy Davis; Wife - Joan Bruce
• United We Stand ABC 1982, 1983. ABC Studios, Sydney Production Andrew McLennan, Sound Recordist Neal Smith, Actors: Sister - Kerry McGuire; Brother - John Fitzgerald; Father - Martin Vaughan; Mother - Margaret Christensen Younger Sister - Selena McLennan; Child Max Sellin; Priest - Peter Gwynne
• Thirty Trivial Items ABC 1983, 1991 ABC Studios, Sydney, Production: Andrew McLennan; Sound Recordist: Neal Smith; Actor: Tim Robertson
• The Interview 5MMM 1981 SAW Studio, Adelaide, Sound Engineering Geoff Lloyd and Bo Jones; Actors; Sue - Jude Watters; Beni - John Currey
• Six Minutes ABC 1981, 5UV 1984 ABC Studios Adelaide; Production: Herbert Davies; Technical Operator: Brad Williams; Production Assistant: Anna Shone; Actors: Woman - Katheryne Fisher; Man - Lawrence Hayes
• People in a Gallery 5MMM, 1983 5MMM Studios, Adelaide. Production: Chris Trimmer and Tess Brady; Sound Recordist: Chris Trimmer
• Woman in a Built Up Area ABC 1986,1989 ABC Studios Melbourne. Production: Anne McInerney
• Woman in the Key of A Minor ABC 1986, 1989 ABC Studios Melbourne. Production: Anne McInerney
---
Children's Picture Books
---
These happened more because the story came up and grabbed me, demanding to be told, rather than by design or intention. They probably also occurred because I had a daughter, Catherine Gough-Brady and that brought my attention to the world and possibilities of picture books.
---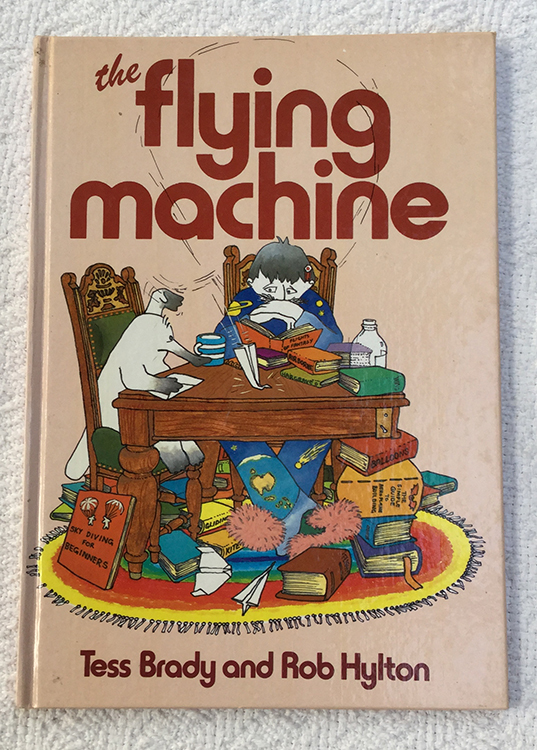 The Flying Machine (1981) was the first and was published in 1981 at the beginning of the resurgence of children's publishing in Australia.
At the time several of the sculptors at SAW were working on flying machines or sculptures based upon that idea. As a bit of fun I wrote a story about Bo Jone's piece and left it on a bench for people to casually draw images. An artist friend, Rob Hylton, visited the collective and began drawing next to my words.
We worked on it together for a time and I made a mock-up.
The brilliant publisher Bob Sessions AM was at Nelsons and I sent an unsolicited manuscript of a 50 page picture book to him. I had no idea that was outrageous.
He liked the story enough to decide to work with me and gradually coaxed me to trim it down to a 32 page picture book, the industry norm. Working with Sessions on this book taught me an enormous amount about the structure of children's picture books. I began to realise the form is as controlled as a sonnet, and yet just as a sonnet can have any number of subjects and express any number of thoughts, so too can a picture book.
Children's publishing has changed over the years. In this early book there are 13 wine bottles in the illustrations!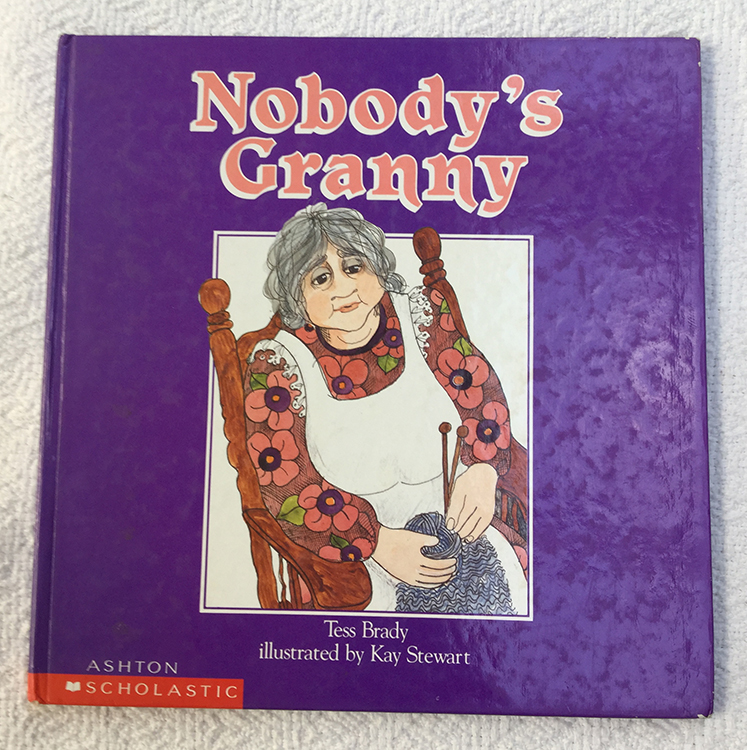 Nobody's Granny (1989) came to me from an incident that happened in my street. My daughter and the local kids would play in an overgrown garden a few doors up. An old lady lived there and didn't mind the kids crawling through the broken fence after school. Once day a new fence was erected and the kids came home very disappointed.
It occurred to me that the old lady and the children had both lost something silent but quite precious.
I began working on the story. I used the names of my friend's children - Edith, Natalie, James and Nassiem. They are all grown up now and Nassiem is a film maker.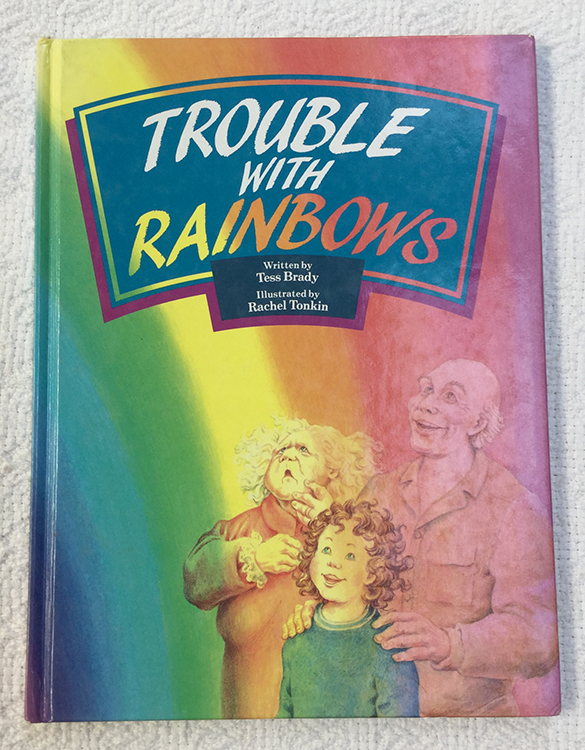 Trouble with Rainbows (1991) came out of a mad impulse I had to have a number of bright colours put in my hair. The hairdresser and I were having fun with new hair dyes. I must have looked a bit odd as a kid asked me, with horror in his voice, 'What happened to you?'
Without a thought I replied. 'Oh I bumped into a rainbow- bit of a problem. Ever happened to you?'
The silliness of our exchange led to the story. It gave me a vehicle to once again explore the special relationship children have with older people.
Picture books take a long time to develop. I remember my daughter had just finished year 12 exams at school when I got a phone call telling me the book had been accepted by the publishers Lothian. It was eventually released in the same month she graduated with her first degree.
---
Crime Fiction
I've always been intrigued by the concept of Lucifer, largely created by the poet Milton in his Paradise Lost. Lucifer in this guise is the most beautiful, most magnificent angel whose hubris led him to believe he was greater or equal to God. For him it was 'Better to reign in Hell than serve in Heaven.' Michael mustered the troops of angels and in an almighty battle banished Lucifer to Hell. There he took on the more familiar name of Satan.
I think as humans we are fascinated by the most beautiful, the most gifted, the most praiseworthy, who falls from grace. Catching a glimpse of the creature is exciting because their exquisiteness is deadly. It's a deeply human game - we keep ourselves nice and in our dreams (where we are inevitably safe) flirt with all that Lucifer represents.
Crime fiction allows me to play in this sandpit.
I wish I was better at it than I am. Hudson Hawthorn published Paint Me a Murder in 1989. I wrote most of it while spending a year on various Pacific islands. Three of us road around on push bikes and being the time before laptops and word processing I carried a small manual typewriter in my bike pannier.
It was at the beginning of crime fiction publishing in Australia and the book was well enough received, but try as I may, I haven't managed to get another novel manuscript to a publishable standard. Every now and again I sit down for a long play in the sand pit. The characters come to live with me, the story becomes real and I build sandcastles what are personally satisfying but light years away from the genre's expectations and current fashions in publishing.
I am so very impressed with those who repeatedly manage the long-form of the novel.
---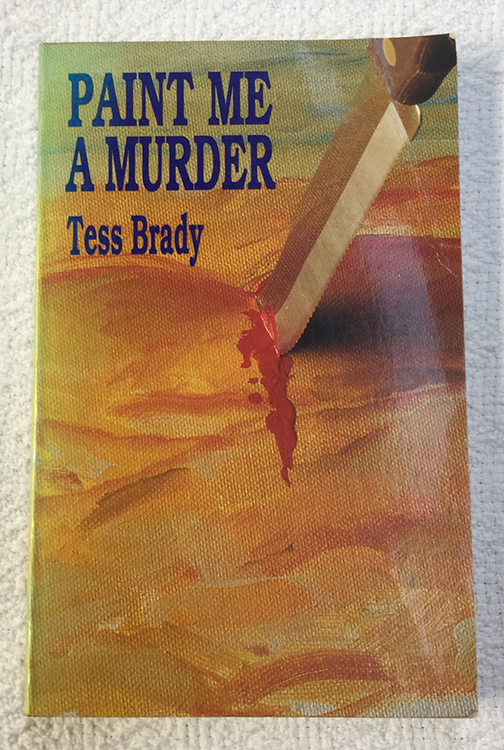 ---
Self-Help Books
I wrote two of these with Donna Lee Brien. They were terrific fun, comparatively fast to write and taught me about the importance of a strong book proposal.
Donna and I have writer on collaboration elsewhere. I think the most important thing in any collaboration is to maintain a sense of humour and be forgiving.
---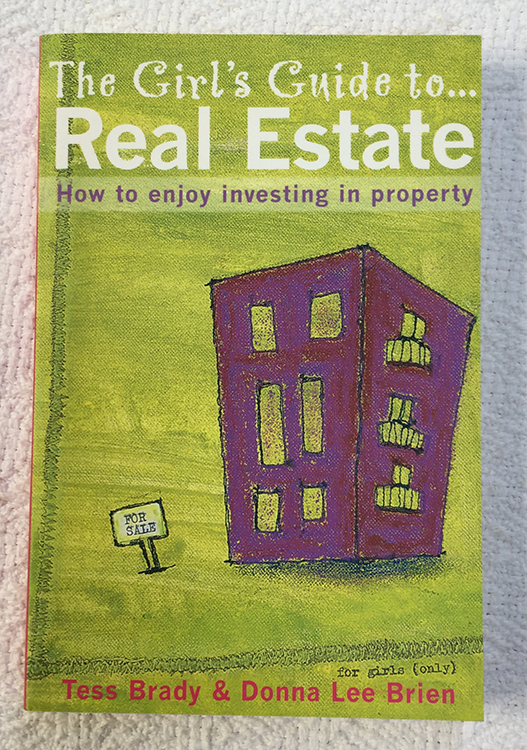 The Girl's Guide to Real Estate (2002) was written because Donna and I had both invested in property and many of our women friends asked us how to go about it. When we looked for books to help them the property, investment or business sections of bookshops were full of men-focussed titles. So we thought we'd give it a go.
After a day working together we had isolated our five basic principles:
Real estate investment is for the long haul
It's OK to be frightened
Ask for reliable advice
Use your own personal skill set and resources to take control
Enjoy your investing.
We wanted the tone to be light and accessible and women-friendly.
The innovative publisher  (and now successful author) Sophie Cunningham at Allen & Unwin was the first publisher to see the outline and immediately signed us up.
The book was a great success and helped a lot of women, and some men, break into the property market. We gave talks all over the countryside to rooms full of women wanting to unravel the secrets of investment.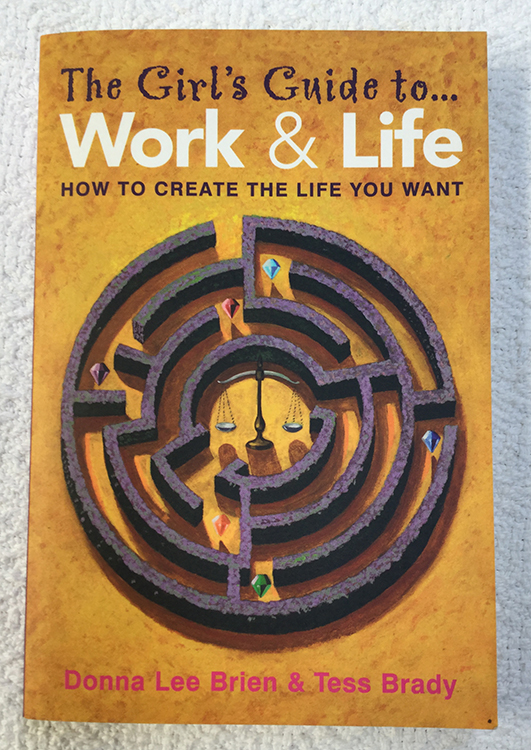 The Girls Guide to Life and Work (2004) unpacked the work-life balance arguing that women should be in control of how they wanted the balance to sit. There are times in all out lives when we want to toss ourselves into our careers and other times when we need to pull back and remember how to smell the roses. We talked about luck and how to make it work for you, about skills and about dreams - the difference between day dreams and hungry dreams that can guide and direct your choices.
Once again we gave talks all over the country. Interestingly this subject was much more serious as many in our audience where hungry for life-changes.
We wrote the books in a number of different cities, usually meeting up for a week after or before a conference. We'd hire an apartment and arrive with computers, printers and the like. Once we'd accidentally hired an apartment normally used for porn films, another time we were working around a building site and got ourselves cemented-in for two days.
Both books were worked on for about 8 drafts and it was hard to keep the light-heartedness when hour after hour, day after day, we went over and over the same chapters. Once we wore angel wings, red noses, funny hats... anything to suddenly make us laugh.
---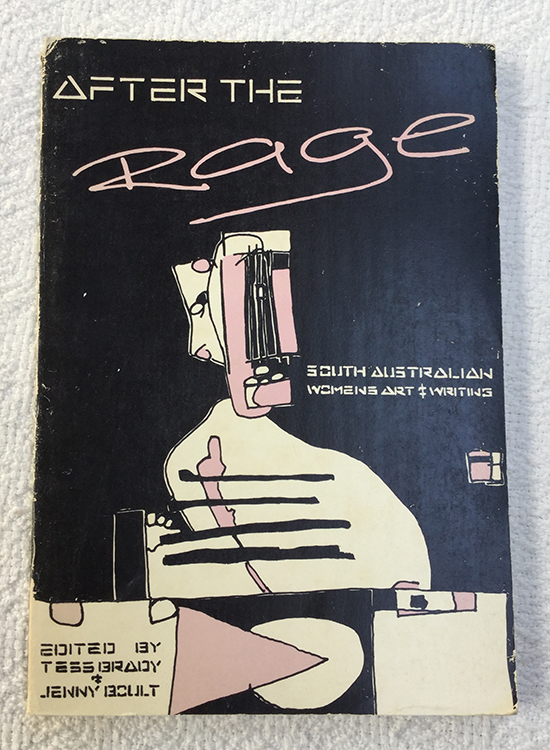 ---
Other publications
After The Rage Tutu Press. 1983 (Joint Editor with Jenny Boult);
The Bunyip Book, SA Festival of Arts "Adelaide Arts Alternatives". 1984 (editor);
Tracing A Line City of Unley. 1984;
Paint Me A Murder Hudson Hawthorn. Large Print Edition 1990;
Creative Writing: Theory Beyond Practice, (co‐editor with Nigel Krauth) Post Pressed, 2006;
The Clunes Little Book of the Book, (co-edited with Nigel Krauth), Creative Clunes, 2010.